AngularJS course
Posted on 2014/10/24
Just visited AngularJS course on Sovelto. http://www.sovelto.fi/Kurssit/Kurssivalikoima/Pages/Kurssihaku.aspx?kurssiID=4453
Web development experiments
Posted on 2014/10/17
So, I wanted to experiment with Mono, Entity Framework, JSON, HTML5, TypeScript and AngularJS. It is still bit open what my site will actually do once finished, but my idea here is create template that allows rapid development of 'forms' based applications. I also plan on doing some offline app with PhoneGap. Stay tuned for more. :-)
You can find project at Google code: https://code.google.com/p/mobile-invoicing/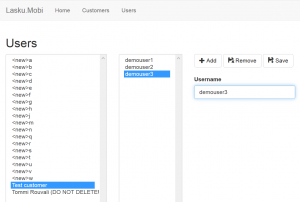 Hosting
Posted on 2014/08/24
I ended up hosting this site at DigitalOcean. They offer Linux virtual machine hosting starting at $5/month. That is quite nice considering that GoDaddy charges me $8.99 on premium hosting (multible domains).
I like having virtual machine instead regular hosting as it gives more possibilities for configuration and development. I have one C#/Mono/Entity framework/MySQL project in mind that will be installed to this server…
New storage silo
Posted on 2014/08/08
I have been really busy on constructing new silo this summer. I uploaded some photos under projects menu. Take a look.
FPGA development board
Posted on 2014/03/05
I been building FPGA development board for SDR experiments. And decided to publish it on Hackaday.io. So there it is, please check it out: http://hackaday.io/project/291-FPGA-development-board.
Site ported to WordPress
Posted on 2013/05/21
So, this site moved again. This time one relative of mine set up couple of web servers and I did some configuration on them. I don't know was that payment or good will, but he let me put this site to those servers. So I am free riding now. :-) I tried to pull Typo3 to new servers but it got complicated when I should have upgraded and moved site at the same time. Also I had some trouble with typo3 previously so, decided to do some extra work and convert all to WordPress. So here we are. If you can read this conversion was success.
I have plans to upgrade layout to something better, but lets see about that one. Year go by so quickly…
New call OH1TR
Posted on 2011/08/24
I bought new call OH1TR. Maybe dropping that OH1FNJ at some point..
Radio tower
Posted on 2009/12/26
I bought small radio tower at fall. I have been busy with other things, but now I finally got time to pull it up.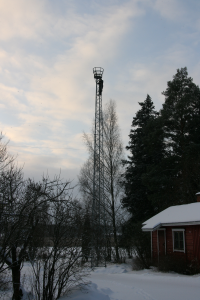 RC helicopter
Posted on 2009/06/26
I finally give up to temptation and bought one of these: http://www.esky-heli.com/esky-beltcp-v2-green-6ch-rtf-kit-p-4340.html. I did know it is hard to fly, but it really did come to little surprise how hard it really is. Tried it twice, broke it twice.. :-) Well practice goes on…
I am a HAM now..
Posted on 2009/01/28
Well papers arriver and my call is OH1FNJ. Started project of building my own radio. I plan to use USRP for receiving and sending, but USRP output power is 0,4mW so linear amplifier is needed. That I plan to build myself. Kind of interesting to see how this building project goes. I always hated coils and RF stuff because they are so 'unpredictable'. For that I mean, long wire acts as a coil, two parallel wires as capasitor, ground is not really a ground if not done propertly. If you add one transistor to this, you will damn sure get oscillator, wanted it or not. Oh well, maybe this is why I get my license. Life is boring if you don't have challenges, and change to learn something new!-)